ArtTour International is the leading voice in the art world, with over 2.1 Million readers in 205 countries. ATIM international platform includes high-quality print magazines, a state of the art digital publication, the ArtTour International TV Show reaching over ten million viewers every week.
The Award was presented on July 22nd of 2021.
Published About Sherry Farsad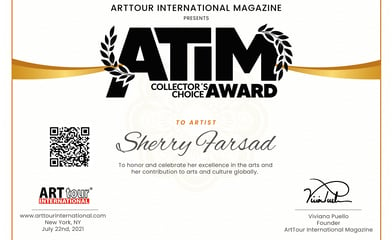 There is an ethereal sensuality to Persian Australian multi-media artist Sherry Farsad's luscious and dynamic figurative work. Choosing oils, acrylics, and graphite, her push and pull between expressionism and realism is exhibited in large, soft strokes and contrasting hues to create vivid movement in her work. The nature of her strokes and spatial elements yields emotional responses in her audience. The carefully applied brushstrokes and bold colors emphasize the heightened emotionality of each piece. Sherry paints with skill and intention to evoke a curious and contemplative dialogue from her audience. She expresses the sacred complexities of human emotion.
The vibrant colors and soft curvature of the central figures in her work form a sense of harmony, tranquility, and transformation in contrast to the subtle and richly spaced backgrounds. The result is multi-dimensional works that project a radiant glow.
Pulling inspiration from her internal battles, Sherry lit a fire in her career in choosing to pursue her passion as a full-time artist during the lockdown period of Covid-19. Creating time to be intimate with her desires, she surrendered her voice onto her canvas, and the result is a diverse collection of inspiring visuals and highly skilled applications.
- ATIM International Summer Issue